BIOklar move
Catalogue index: L-F140AN / Art. No.: F140
English name:

BIOklar move 60 HAPPET POND - poly tech move 100

Art.No.:

F140
Description
BIOklar move 60
pond filter

BlOklar MOVE is a version of the well-known and tested in thousands of ponds filter BlOklar, but followed in the third chamber technology of the floating bed "moving bed" instead contribution Aquarock. This is an increasingly popular method of filtering based on the filter medium which is Kaldnes .
They are small plastic shapes with specific gravity similar to water , floating freely in the water depth and with a very large biologically active surface Water in the filter chamber is constantly put into motion with the air fed from below so that the whole mass of Kaldnes was in motion and dead zones were not formed In oxygen saturated water, on Kaldnes fittings biologically active membrane works much more intensively than on other static filtration media.
Thanks to the existence of a zone of "young" membrane outside the fittings, permanently cut and "old" from the inside, the nitrification process runs more fully and without danger of anaerobic zones. For the filter, simply connect the supplied air pump and pour Kaldnes into the third chamber. The Kaldnes filter media does not require cleaning , however, you can remove dirt from the settler under the third filtration chamber, as in the case of the first two chambers.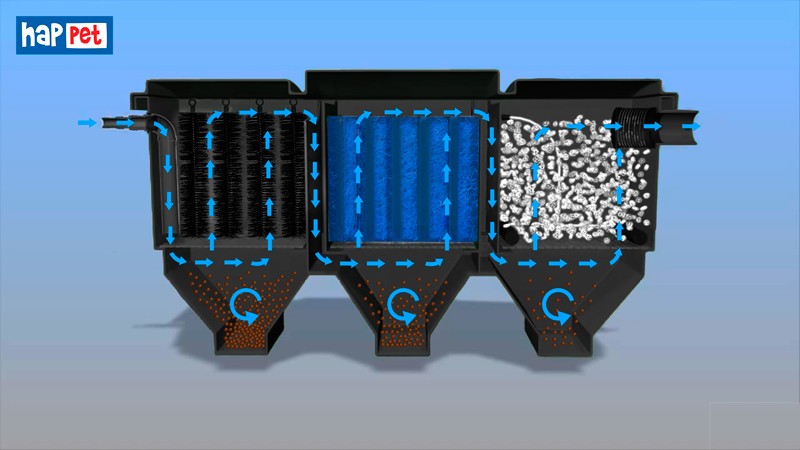 Wykonany jest z laminatu poliestrowo-szklanego, dzięki czemu charakteryzuje się bardzo wytrzymałą konstrukcją.
Filtr zapewnia odpowiednią powierzchnię biologicznie czynną co jest kluczowe w utrzymaniu czystej, klarownej wody, oraz utrzymania odpowiedniej równowagi biologicznej w stawie nawet przy dużej obsadzie ryb.

W każdej komorze zastosowano odstojnik, służący do łatwego usuwania zanieczyszczeń z filtra oraz czyszczenia komór filtracyjnych.
Aby czyszczenie takiego filtra było łatwiejsze i aby większa była kontrola nad przepływem wody przez materiał filtracyjny, filtr dzieli się na 3 połączone szeregowo komory.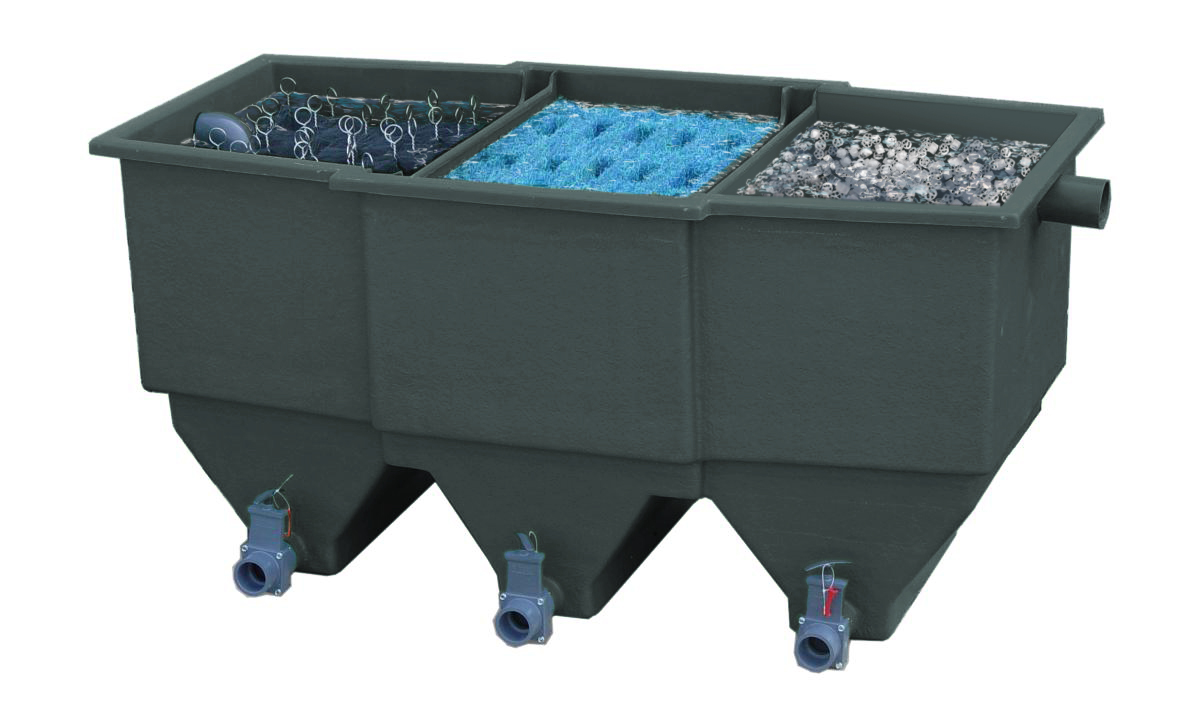 Dane techniczne:

Wejście: ø 25/32/40 lub 110 mm, wyjście: ø 110 mm
Zalecana wydajność pompy: ok. 15 000 L/h
Wymiary: 185x95x90(H) cm
Filtr przeznaczony jest do stawów o pojemności max. 60 000 litrów

Kolor: antracytowy




Tabela filtrów Bioklar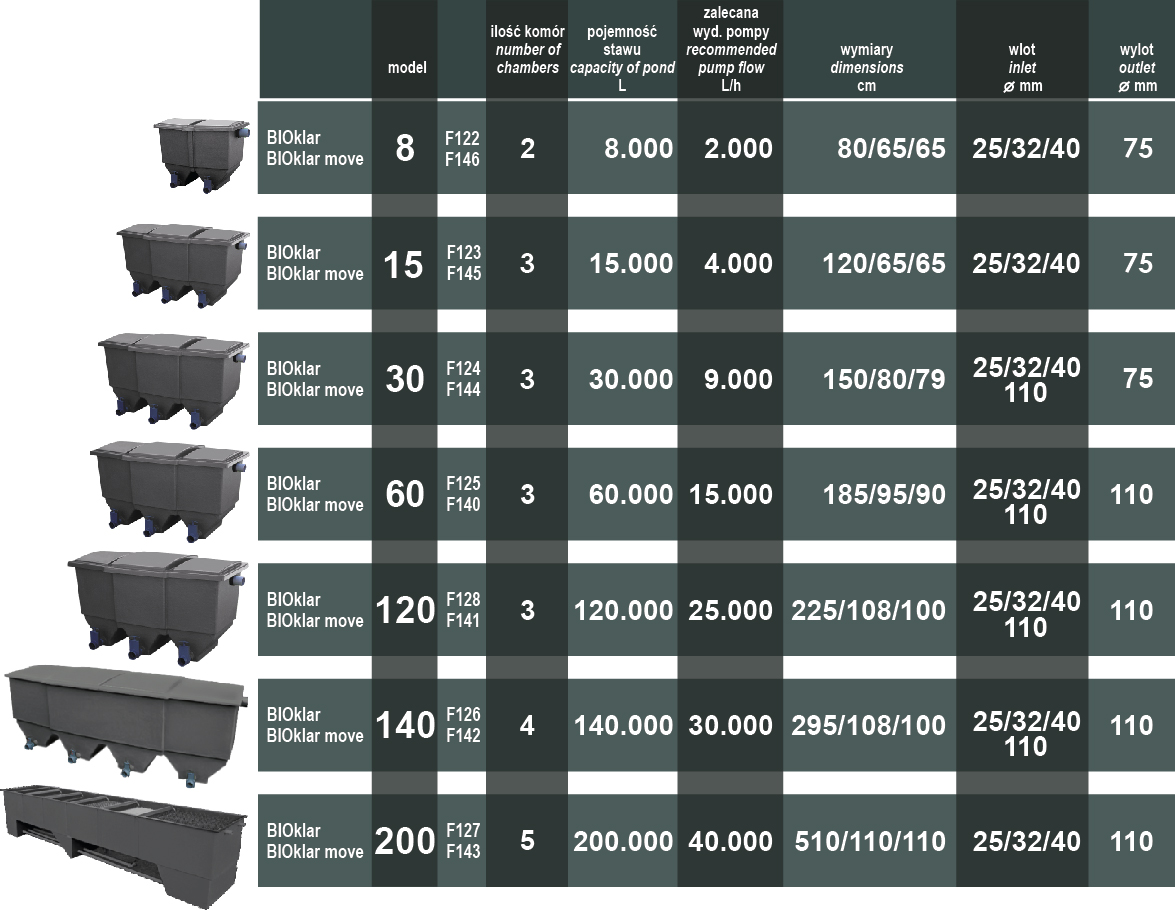 Materiały filtracyjne:

I Komora – szczotki filtracyjne

Pompa z sadzawki tłoczy wodę do pierwszego modułu, gdzie zostaje skierowana do dolnej części modułu. Tutaj strumień wody wyhamowuje i wytrącają się najgrubsze zanieczyszczenia.
Dolna cześć każdej komory spełnia rolę osadnika, z którego osad można łatwo usunąć otwierając zawór umiejscowiony w najniższej części modułu.
Następnie woda spokojnie przechodzi do górnej części zbiornika, gdzie są specjalne szczotki filtracyjne, wyglądem przypominające te do mycia butelek.
Działają one głównie w sposób mechaniczny wyłapując grubsze zawiesiny.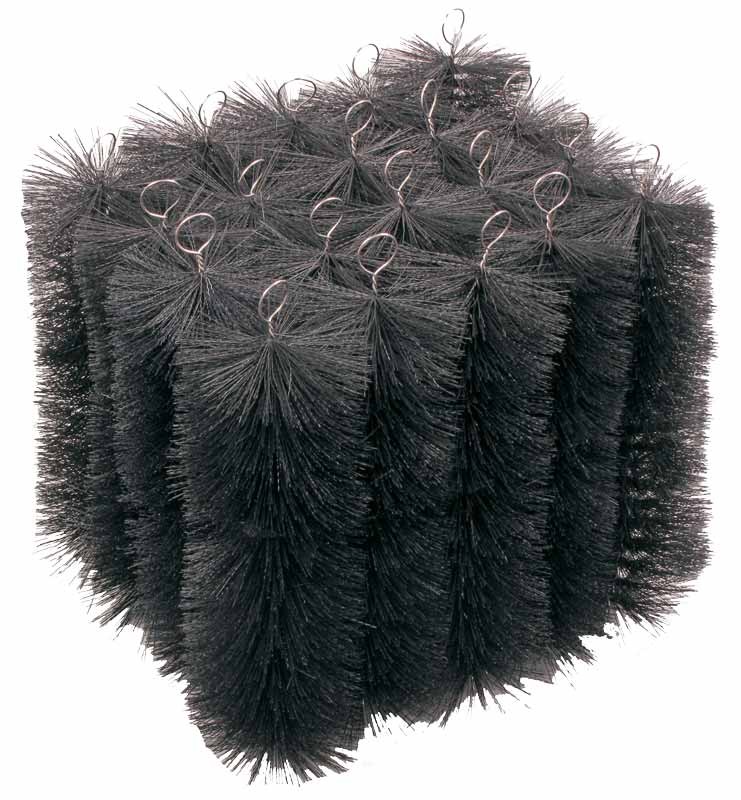 II Komora – włóknina filtracyjna lub mata japońska*

Następnie, poprzez przelew woda dostaje się do drugiego i dalej trzeciego modułu, zawsze trafiając najpierw do odstojnika w dolnej części, a następnie przechodząc przez materiał filtracyjny spoczywający na specjalnym ruszcie.
Drugi moduł wypełniony jest albo dosyć grubą włókniną filtracyjną albo tzw. japońską matą (rodzaj grubej gąbki)
- wyłapuje ona mechanicznie drobniejsze cząsteczki zawiesiny, ale też w dużym stopniu dzięki dużej powierzchni czynnej, następuje biologiczny rozkład zanieczyszczeń.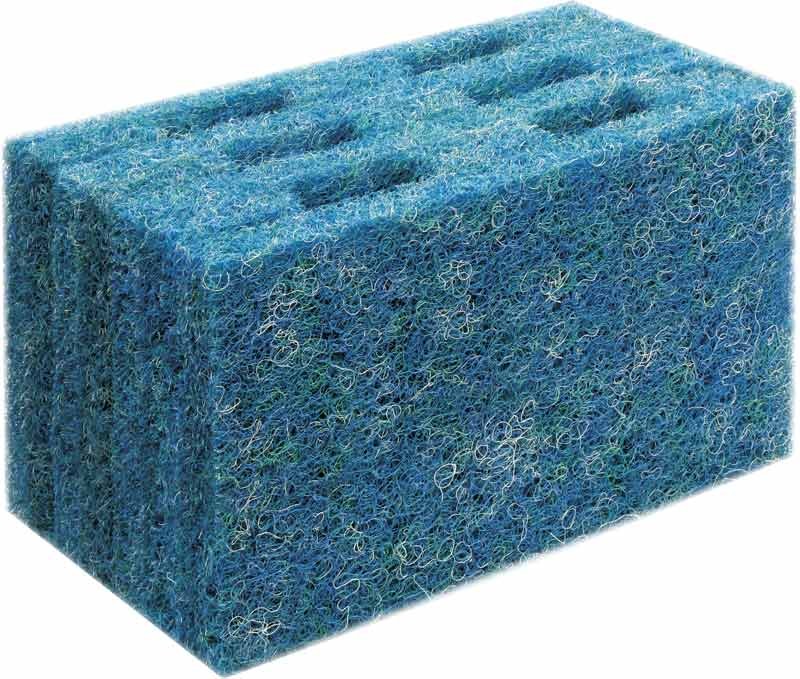 III Komora – Kaldnes.

Trzeci moduł spełnia głównie rolę filtracji biologicznej. Wypełniony jest pływającymi kształtkami plastikowymi stanowiącą idealne siedlisko dla bakterii nitryfikacyjnych.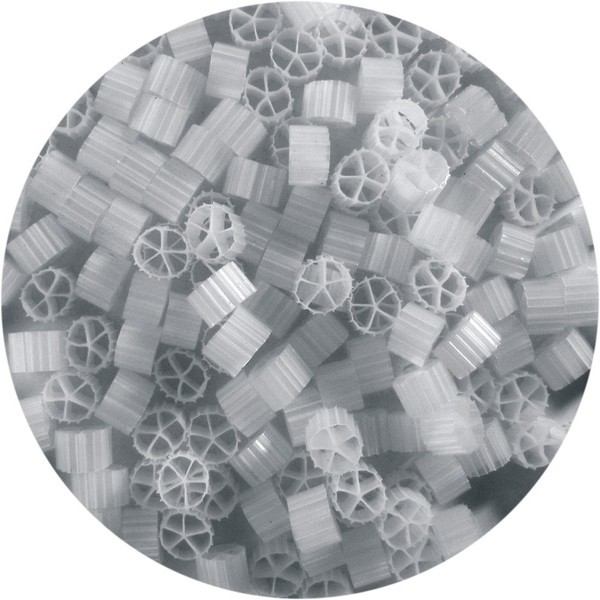 Czyszczenie filtra jest maksymalnie uproszczone. Zgrubne czyszczenie wykonuje się częściej (co tydzień) i polega na usunięciu zanieczyszczeń z odstojników. Należy na chwilę otworzyć po kolei każdy z 3 zaworów pod każdym z 3 modułów, tam bowiem sedymentują najgrubsze zanieczyszczenia. Dokładniejsze czyszczenie wykonuje się otwierając na dłużej zawór w każdym z odstojników i w czasie kiedy woda uchodzi z modułu wzruszamy szczotki oraz matę filtracyjna powodując zejście wraz z uchodząca wodą uwolnionych zawiesin.
Należy poczekać aż cala woda ujdzie z poszczególnych komór.

Uwaga!

Filtry BIOklar dostępne są także w wersji grawitacyjnej, w której woda ze stawu napływa do filtra pod wpływem siły grawitacji i po przefiltrowaniu przez wszystkie materiały jest wypompowywana z ostatniej komory.
All filters can work in both pump and gravity versions.

Models 8, 15 and 200 are available as standard in the pump version, inlet in the upper part of the first chamber. It is possible to make a gravity version on order - then the inlet at the bottom of the filter.

Models 30, 60, 120 and 140 are available as standard in both pump and gravity versions. Both versions have an inlet at the bottom of the filter, straight to the first sediment chamber.

When ordering a filter, please specify whether it is a pump or gravity version.
The cost of transport (shipping on a pallet) is added to the price of Bioklara
Features
Features

| | |
| --- | --- |
| English name: | BIOklar move 60 HAPPET POND - poly tech move 100 |
| Art.No.: | F140 |